The European Investment Bank in Spain: what we do
EIB financing* in Spain came to a total of EUR 10.2 billion in 2017, making the country the 2nd largest recipient of EIB loans last year.
The total investment of the EIB Group (the European Investment Bank and the European Investment Fund) in Spain in 2017 was EUR 10.8 billion.
(*) signed projects
---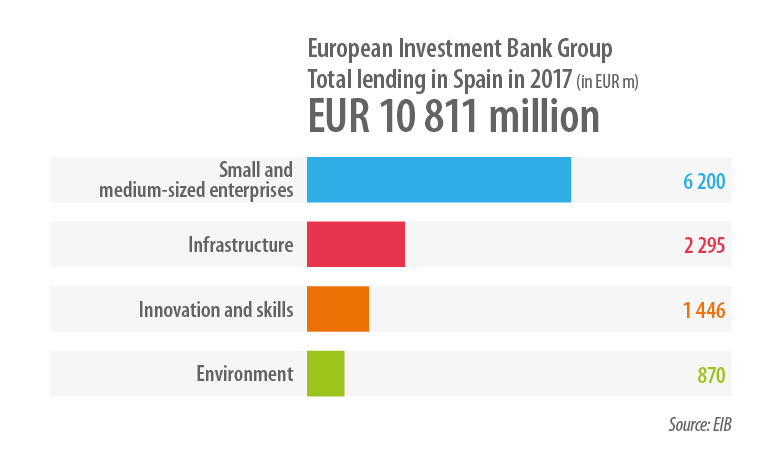 Las Palmas bus company Guaguas Municipales - which already provides the traditional guaguas – and the municipality are implementing an ambitious project to tackle the challenge of moving people around the city. It's called MetroGuagua and promises to transform the way people move and breathe. With a EUR 50 million loan, the EIB backed half the total cost of the project.
---
The EUR 609 million "Plan Navarra 2012", co-financed by the EIB, is providing substantial help to the Spanish region in the fields of education, health and cultural heritage. Thousands of jobs have been created and the 50 operational projects are giving a fresh boost to the economy of Navarre.
---
---
---
European Fund for Strategic Investments (EFSI) in Spain
The European Fund for Strategic Investments (EFSI) is an initiative to help overcome the current investment gap in the EU. It aims to mobilise EUR 500 billion by 2020.
Jointly launched by the EIB Group and the European Commission, it is the central pillar of the Investment Plan for Europe, aiming to boost jobs and GDP, improving the lives of people across Spain.
EFSI key figures for Spain (by January 2018)
Number of transactions
70
Approved EFSI financing
EUR 5.6bn
Expected investment related to EFSI
EUR 31.9bn
Use our map for a detailed overview of EFSI projects in Spain.
EIB Investment Survey 2017 - Spain
The annual EIB Group Survey on Investment and Investment Finance (EIBIS) is an EU-wide survey of some 12 300 firms that gathers information on investment activities by both SMEs and larger corporates, their financing requirements and the difficulties they face.
Click here to see the country overview of 2017 results for Spain.
---
How to receive EIB support in Spain :
---
---