The EIB in the United Kingdom
EIB investments in the UK economy came to EUR 6.9 billion in 2016, making the country the 5th largest recipient of EIB loans last year. Infrastructure projects accounted for 47% of total investments, while environment claimed 36%. Innovation and support to smaller businesses in the UK claimed 14% and 3% respectively. Over the past five years (2012-2016) the EU bank has invested over EUR 31.3 billion in the British economy.
The total investment of the EIB Group (the European Investment Bank and the European Investment Fund) in the UK in 2016 was EUR 8.1 billion.
---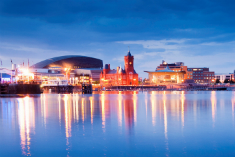 The UK remade industrial inner cities in the 1980s as vibrant urban centres—a strategy that has been taken up all over Europe
---
More than 7 million smart meters are being installed in homes across Great Britain under a new GBP 1 billion mass roll-out programme supported by the EIB. This is the largest project so far to be backed by the European Fund for Strategic Investments (EFSI). The programme will support the UK Government's plans to ensure that over 53 million smart electricity and gas meters are installed in Great Britain by 2020.
---
---
---
How to receive EIB support in the UK:

---
---