The European Investment Bank in the Czech Republic: what we do
EIB project impact in Czech Republic
Ecos Choceň, a private family-owned engineering company, needed to expand and introduce new technology. Thanks to the EIB's Jobs for Youth initiative, they accessed a low interest rate loan, allowing them to secure 275 jobs and increase their activity.
---
We supported the revamp of Pilsen's urban landscape in preparation of it becoming European Capital of Culture in 2015. A CZK 2bn (EUR 75m) loan helped to improve the city's attractiveness to tourists. Numerous projects were financed, including the building of a new theatre which acts as a cultural hub for this buzzing city and which was the venue for the official launch of the Capital of Culture.
---
---
---
European Fund for Strategic Investments (EFSI) in the Czech Republic
The European Fund for Strategic Investments (EFSI) is an initiative to help overcome the current investment gap in the EU. It aims to mobilise EUR 500 billion by 2020.
Jointly launched by the EIB Group and the European Commission, it is the central pillar of the Investment Plan for Europe, aiming to boost jobs and GDP, improving the lives of people across Czech Republic.
EFSI key figures for Czech Republic (by January 2018)
Number of transactions
16
Approved EFSI financing
EUR 543m
Expected investment related to EFSI
EUR 2.5bn
Use our map for a detailed overview of EFSI projects in the Czech Republic.
EIB Investment Survey 2017 - Czech Republic
The annual EIB Group Survey on Investment and Investment Finance (EIBIS) is an EU-wide survey of some 12 300 firms that gathers information on investment activities by both SMEs and larger corporates, their financing requirements and the difficulties they face.
Click here to see the country overview of 2017 results for Czech Republic.
---
EIB financing* in the Czech Republic came to a total of EUR 977 million in 2017.
The total investment of the EIB Group (the European Investment Bank and the European Investment Fund) in the Czech Republic in 2017 was EUR 1.2 billion.
(*) signed projects
---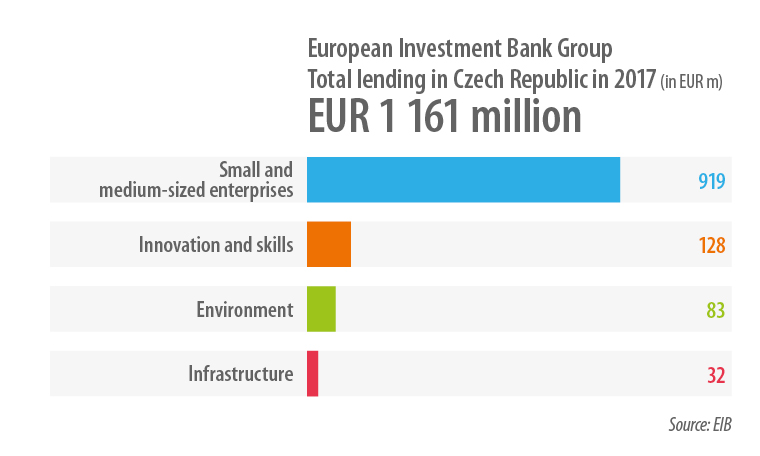 How to receive EIB support in Czech Republic:
---
---