The European Investment Bank in Greece: what we do
EIB financing* in Greece came to a total of EUR 2.1 billion in 2017.
The total investment of the EIB Group (the European Investment Bank and the European Investment Fund) in Greece in 2017 was EUR 2.49 billion.
(*) signed projects
---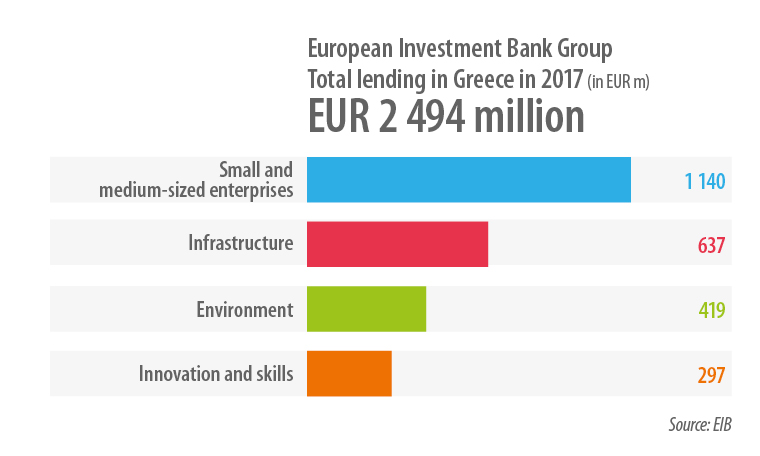 Investment Plan for Europe: boosting access to finance for Greek SMEs
EIB project impact in Greece
---
The European Investment Bank, the EU bank, loaned EUR 15 million to Creta Farms in June 2016. The loan is backed by EFSI's EU budget guarantee and EIB resources, which aim to trigger EUR 315 billion of investment across Europe by 2018. It was needed because Greek banks are reluctant to lend in the wake of years of economic upheaval. The loan will help finance expensive advances in Creta Farms' oliving technology, as well as its international expansion.
---
---
---
European Fund for Strategic Investments (EFSI) in Greece
The European Fund for Strategic Investments (EFSI) is an initiative to help overcome the current investment gap in the EU. It aims to mobilise EUR 500 billion by 2020.
Jointly launched by the EIB Group and the European Commission, it is the central pillar of the Investment Plan for Europe, aiming to boost jobs and GDP, improving the lives of people across Greece.
EFSI key figures for Greece (by January 2018)
Number of transactions
20
Approved EFSI financing
EUR 1.7bn
Expected investment related to EFSI
EUR 5.8bn
Use our map for a detailed overview of EFSI projects in Greece.
EIB Investment Survey 2017 - Greece
The annual EIB Group Survey on Investment and Investment Finance (EIBIS) is an EU-wide survey of some 12 300 firms that gathers information on investment activities by both SMEs and larger corporates, their financing requirements and the difficulties they face.
Click here to see the country overview of 2017 results for Greece.
---
How to receive EIB support in Greece:
---
---