Publications
---

This edition of EIB INFO puts the spotlight on projects that drive innovation and skills, but also highlights the value of innovation partnerships.
---

Le maintien de ses efforts de financement tout au long de 2013 a permis à la BEI-FEMIP de franchir le seuil de 5 milliards d'EUR de nouvelles opérations de financement dans la région méditerranéenne depuis 2011.
---
La stratégie comporte différents niveaux de priorité et se concentre en particulier sur deux domaines essentiels: les infrastructures et le secteur financier.
---
La nouvelle stratégie de l'UE pour réduire la pauvreté et renforcer l'impact de sa politique de développement.
---
Cette brochure donne un aperçu du deuxième rapport sur le Cadre de mesure des résultats (REM) des opérations que mène la BEI en dehors de l'UE.
---
Les accidents de la route sont un problème de santé majeur, tant en Europe que dans le reste du monde. Ils sont également à l'origine de graves préjudices économiques. La BEI promeut depuis longtemps les meilleures pratiques de sécurité routière dans l'Union Européenne, par des investissements dans des routes et des véhicules plus sûrs.
---

Le présent rapport couvre les opérations réalisées dans les pays ACP et les PTOM ainsi que les opérations en Afrique du Sud, financées dans le cadre d'un mandat extérieur différent.
---
Le rapport sur l'empreinte carbone aide la direction de la BEI, son personnel et d'autres parties prenantes à mieux comprendre l'incidence des opérations internes de la Banque sur les changements climatiques. L'analyse détaillée des différentes activités et de leurs émissions permet aux principaux décideurs de la Banque de mesurer les effets des activités de réduction des émissions de carbone et d'identifier les domaines qui pourraient encore être améliorés.
---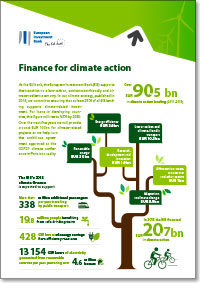 En 2013, la BEI a investi 19 milliards d'EUR dans des projets en faveur de l'action pour le climat, un montant qui atteint 88 milliards d'EUR sur les cinq dernières années (2009-2013).
---
La région du Danube compte plus de 115 millions d'habitants. Neuf États membres de l'Union européenne et cinq pays non membres de l'UE se partagent le bassin du Danube. La partie de la région située dans l'Union européenne représente un cinquième du territoire de l'UE et l'économie, la compétitivité et le bien-être de la population de cette région sont étroitement liés à la situation qui prévaut dans l'ensemble de l'Union.
---

---