Publications
---
/eib.org/img/publication/eib_document_cover_en.jpg
Last year the EIB signed financing contracts amounting to EUR 380m in the Western Balkans. Total disbursements were EUR 520 m.
---
/eib.org/img/publication/eib_document_cover_en.jpg
The EIB has been active in the Western Balkans since 1977. Since 2001, it has provided finance totaling EUR 4.3 billion in favor of projects in Serbia supporting all major infrastructure sectors as well as small and medium sized enterprises, industry, services and local authorities.
---
/eib.org/img/publication/bei_info157_en.jpg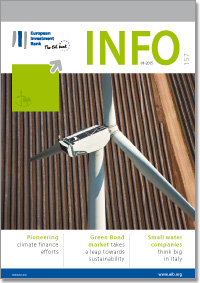 The EIB is uniquely positioned to provide investment for high-quality, low-carbon, resilient projects and to catalyse further finance. This edition of the EIB INFO shows how the Bank makes a real difference to the environment and to people's lives.
---
/eib.org/img/publication/eib_document_cover_en.jpg
To date, EIB financing in Asia amounts to EUR 5.8 billion, with China accounting for 34% of total financing, India 21% and Vietnam 11%.
---
/eib.org/img/publication/eib_document_cover_en.jpg
Since 1993, the Bank has supported 92 projects with a signed total of about EUR 7bn in 14 countries in Latin America. Investments in energy, telecommunications and industry have been the more significant sectors and have accounted for 35%, 20% and 18% respectively. EIB lending in the period covered by the ALA IV mandate, which ran from January 2007 until July 2014, provided finance of about EUR 4bn in the region for 36 projects. Climate action is the main focus of the EIB's lending in the region.
---
/eib.org/img/publication/investing_in_smart_cities_en.jpg
Transformer les villes en les rendant plus intelligentes et plus durables constitue un objectif important de la stratégie d'investissement de la BEI pour le secteur urbain. Au cours des cinq dernières années (2010-2014), la BEI a accordé des financements pour un total de près de 56 milliards d'EUR et fourni de l'assistance technique à l'appui de cet objectif dans de nombreuses villes.
---
/eib.org/img/publication/jaspers_leaflet_2015_en.jpg
JASPERS apportera un appui à la préparation de projets et des conseils stratégiques, des formations, un soutien thématique et une mise en réseau, ainsi qu'un contrôle qualité indépendant de projets soumis en vue d'un financement par des aides non remboursables.
---
/eib.org/img/publication/report_2014_on_3_pillar_assessment_en.jpg
Le rapport sur les résultats des opérations dans l'Union européenne pour 2014 présente l'activité de la BEI sur l'exercice écoulé dans les 28 États membres de l'UE. Il passe en revue les résultats attendus de plus de 400 projets signés en 2014, représentant quelque 69 milliards d'EUR de financements.
---
/eib.org/img/publication/eptatf_annual_report_2014_en.jpg
Le présent rapport annuel informe sur les activités du Fonds fiduciaire d'assistance technique en faveur des pays du Partenariat oriental (FFATPO) en 2014 et passe en revue les principales réalisations des quatre dernières années.
---
/eib.org/img/publication/jaspers_np_activity_report_2014_en.jpg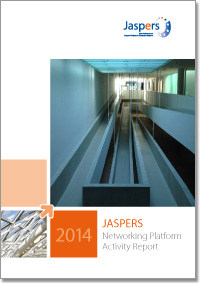 En 2014, la plateforme de réseautage JASPERS a permis la réalisation de plusieurs activités de renforcement des capacités et de partage des connaissances au profit d'administrations nationales, de la Commission européenne et de partenaires de JASPERS.
---

---