Publications
---
Since 1993, the Bank has supported 87 projects with a signed total of EUR 6.3bn, in 13 countries in Latin America. EIB lending in the period covered by the current mandate 2007-2013 provided finance of EUR 3.7bn in the region for 33 projects. Climate action is the main focus of the EIB's lending in the region.
---
To date, EIB financing in Asia amounts to EUR 5.1bn, with China accounting for 45% of total financing, India 21% and Vietnam 17%.
---
The EIB has significantly stepped up its lending activity in the region during the last four years to reach a record level of EUR 1.8bn in 2013.
---
Grâce à une offre combinée de prêts et de services de conseil, la BEI joue un rôle déterminant dans la réduction des déséquilibres économiques régionaux et dans le relèvement des niveaux de vie dans toute l'UE.
---

This paper discusses measures to mitigate potential bank lending constraints on recovery: capital market development and securitisation, credit guarantees and measures advance NPL resolution.
---

Le présent rapport concerne les opérations réalisées au titre de cette nouvelle initiative au cours de la période se terminant le 31 juillet 2014. Plus de 600 projets d'un montant cumulé de 33,6 milliards d'EUR ont été approuvés dans le cadre de ce plan. L'assistance au titre du PACI a déjà dépassé les objectifs de chaque institution pour l'ensemble de la période, ce qui témoigne de l'engagement sans faille des trois IFI dans la région.
---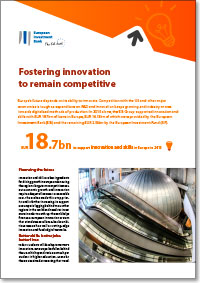 La BEI est un partenaire majeur du soutien aux projets appuyant l'innovation et les compétences en faveur de la croissance économique, qu'il s'agisse de financer de grands programmes de recherche, d'épauler des petites entreprises d'essaimage ou de mobiliser des fonds pour le développement de réseaux numériques.
---

L'activité de prêt de la BEI au Luxembourg repose depuis toujours sur trois grands secteurs d'intervention: le secteur public, le secteur corporate, le soutien aux PME.
---
Le cadre de la lutte contre le blanchiment de capitaux et le financement du terrorisme (LCB-FT) du Groupe BEI vise à prévenir l'implication ou l'utilisation de l'institution, de ses instances dirigeantes, de son personnel et de ses contreparties à des fins de blanchiment d'argent, de financement du terrorisme ou d'autres activités criminelles.
---

Cette brochure fournit des informations détaillées quant à la finalité et au fonctionnement du MED 5P, en précisant notamment les services qu'il propose et la procédure à suivre pour solliciter un appui au titre du MED 5P par l'intermédiaire de la BEI.
---

---