Publications
---

In this new issue of EIB Info we look at how the EIB has been able to step up its own activities to support the creation of growth and jobs over the past year, and showcase projects supporting Europe's drive for innovation and improving skills.
---
The current interim report updates the results of the first report on the implementation of the Joint Action Plan (issued in October 2013) to cover the period to end-2013.
---
Ce dépliant explique clairement le rôle de la BEI, ses missions, son activité, son fonctionnement.
---

Le rapport annuel du Groupe BEI sur la gouvernance d'entreprise présente, dans une forme résumée, les principaux développements de l'année 2013 en matière de gouvernance d'entreprise.
---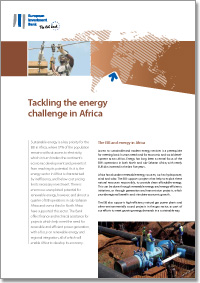 Les énergies durables sont l'une des toutes premières priorités de la BEI en Afrique. Près du quart de ses opérations récentes en Afrique subsaharienne et plus du tiers de ses opérations récentes en Afrique du Nord ont consisté à soutenir le secteur de l'énergie.
---
In 2013, the EIB continued to assist the implementation of projects financed in the previous years, maintaining a steady flow of loan disbursements (EUR 60m) into the country.
---
During 2013, the European Investment Bank provided EUR 1.3bn in long-term low-cost loans for key investment in projects in the Netherlands.
---
Depuis janvier 2013, la BEI a mis en oeuvre un plan de relance européen qui se concrétise en France par une progression de 80 % de son activité, passant de 4,3 milliards en 2012 à plus de 7,8 milliards d'EUR cette année.
---
Cette étude, conduite par la Frankfurt School of Finance and Management, se fonde sur une analyse des publications sur le sujet, sur des enquêtes auprès de petits entrepreneurs et sur la consultation de hauts fonctionnaires, d'employés d'institutions de surveillance, de bailleurs de fonds internationaux ainsi que d'institutions financières en Égypte, en Jordanie et en Tunisie. Elle pourra servir de point de départ pour des actions pilotes destinées à mettre à l'épreuve des approches innovantes dans l'amélioration de l'accès aux financements pour les PME dans les pays partenaires méditerranéens.
---
Cette étude Med-Elena, financée par le Fonds fiduciaire de la FEMIP, a été commandée afin d'évaluer en détail dans quelle mesure la Banque peut contribuer à satisfaire les besoins des projets naissants dans le secteur de l'efficacité énergétique et des petits investissements liés aux énergies renouvelables dans la région.
---

---