Publications
---
/eib.org/img/publication/eib_document_cover_en.jpg
On 25 October 2016, the European Investment Bank filed Amendment No.4 to the 18-K report 2015 with the U.S. Securities and Exchange Commission (SEC).
---
/eib.org/img/publication/climate_action_en.jpg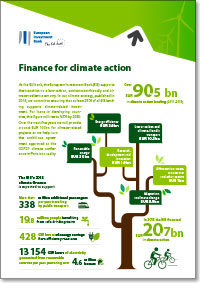 In 2015, the EIB invested EUR 20.7bn in climate action projects, and this figure reaches EUR 90.5bn for the last five years (2011-2015).
---
/eib.org/img/publication/innovation_and_skills_en.jpg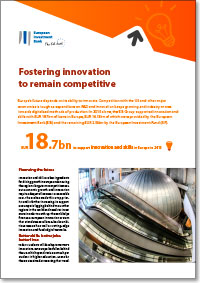 In 2015, the EIB provided EUR 18.7bn in finance for innovation and skills.
---
/eib.org/img/publication/take_the_metro_en.jpg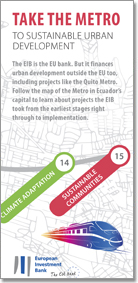 The EIB is the EU bank. But it finances urban development outside the EU too, including projects like the Quito Metro. Follow the map of the Metro in Ecuador's capital to learn about projects the EIB took from the earliest stages right through to implementation.
---
/eib.org/img/publication/acp_business_strategy_2016-2018_en.jpg
The EIB remains committed to supporting good quality projects in Africa, the Caribbean and the Pacific (ACP). This booklet explains what we do, how we do it, and the ways in which our institution is evolving to meet the needs of people on the ground in the ACP regions.
---
/eib.org/img/publication/ig_fraud_investigations_annual_report_2015_en.jpg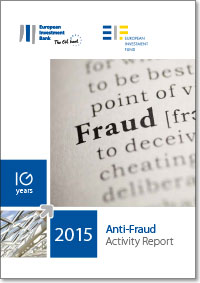 Report on the work undertaken by the EIB Group to combat fraud and corruption in 2015.
---
/eib.org/img/publication/trust_through_transparency_en.jpg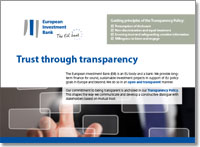 The EIB's commitment to being transparent is anchored in its Transparency Policy. This shapes the way the EIB communicates and develop a constructive dialogue with stakeholders based on mutual trust.
---
/eib.org/img/publication/ev_evaluation_efsi_en.jpg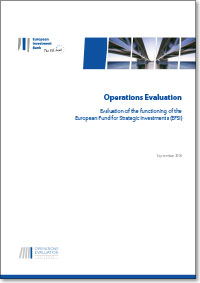 This evaluation assesses the functioning of the European Fund for Strategic Investments (EFSI), implemented by the EIB Group. EFSI is one of the three pillars of the Investment Plan for Europe (IPE), which aims to reduce investment gaps in the EU. This evaluation, taking place at EFSI's mid-term, is a requirement of the EFSI Regulation.
---
/eib.org/img/publication/epec_eurostat_statistical_guide_en.jpg
This new "Guide to the Statistical Treatment of Public Private Partnerships" has been prepared by EPEC and Eurostat with a view to help PPP stakeholders better understand the impact of PPPs on government balance sheets.
---
/eib.org/img/publication/efsi_ic_rules_of_procedure_en.jpg
This brochure sets out the provisions applying to the EFSI Investment Committee functioning.
---

---