EIB Working Papers 2016/06 – Financing energy innovation: The role of financing constraints for directed technical change from fossil-fuel to renewable innovation
Release date: 15 December 2016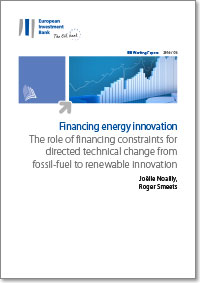 Addressing both the challenge of climate change and the world's growing energy needs will only be possible by achieving a breakthrough in clean technologies in order to deliver safe, clean and sustainable energy for future generations.
Such a large-scale technological transition will require massive investments in research and development (R&D) of clean energy production. Within the sector of electricity generation, renewable (REN) energy technologies, such as solar, wind or geothermal energy, can provide a clean alternative to electricity produced from carbon-intensive fossil-fuels (FF).
Nonetheless, private firms' investments in advancing innovation for renewable energy technologies face important challenges.
---
---

---