EIB Working Papers 2016/04 – Project Finance in Europe: An Overview and Discussion of Key Drivers
Release date: 15 December 2016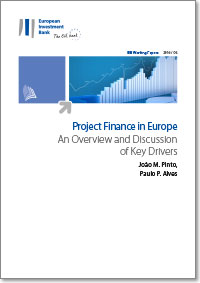 This paper examines the pricing of project finance (PF) and non-project finance (non-PF) loans and examines the factors that influence the borrower's choice between project financing and corporate financing.
Using a sample of 210 273 syndicated loans closed between 2000 and 2014, we find that PF and Non-PF loans are influenced differently by common pricing characteristics and that PF loans in the U.S. and W.E. are priced in segmented markets. Borrowers choose PF when they seek long-term financing and funding cost reduction. We find that transaction cost considerations, the financial crisis and country risk affect the financing choice. Our results document that publicly traded sponsors who prefer project financing to corporate financing are larger, less profitable, more financially distressed and have a higher asset tangibility.
Finally, privately held firms that choose off-balance sheet financing are smaller and less profitable and use PF to raise relatively larger amounts of debt.
---
---

---