Press corner
Welcome to the EIB's press corner. On this page you will find our latest press releases and other relevant information for the media.
---
The EIB is granting a EUR 500 million loan to Banco Comercial Português (Millennium bcp) aimed at facilitating access to credit for SMEs and midcaps located in Portugal. The first tranche of EUR 250 million under the agreement has been signed today in Lisbon by EIB Vice-President Román Escolano and Millennium's Vice-Chairman João Nuno Palma and General Manager Pedro Turras.  
The EIB is granting a EUR 150 million loan to Banco Santander Totta (BST) for financing SMEs, midcaps and public sector entities in Portugal. EIB Vice-President Román Escolano and the President of the Executive Committee of Banco Santander Totta, António Vieira Monteiro, signed the contract today in Lisbon. This EUR 150 million facility is the last tranche of a total EUR 500 million intermediated loan to BST designed to facilitate the financing of small and medium-sized projects.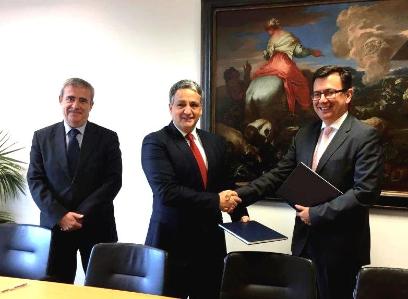 The EIB will grant a EUR 300 million loan to Caixa Geral de Depósitos (CGD) to facilitate financing of small and medium-sized investment projects implemented by Portuguese SMEs and midcaps. Part of this loan will also be aimed at funding projects of public entities and other promoters in sectors including health, education and energy and also to finance public service facilities. The first EUR 150 million tranche of the agreement was signed today in Lisbon by EIB Vice-President Román Escolano and CGD's CEO Paulo Macedo and CFO José Brito.  
Small business across Ethiopia will benefit from a new 6.4 billion Birr (EUR 247 million) lending and leasing programme to be managed by the Development Bank of Ethiopia announced in Addis Ababa earlier today. The new initiative backed by the EIB and World Bank represents the first international support in the Ethiopian financial sector and the European Investment Bank's largest ever engagement in Ethiopia. The new initiative will back financing for local companies by Ethiopian microfinance institutions, commercial banks and leasing firms.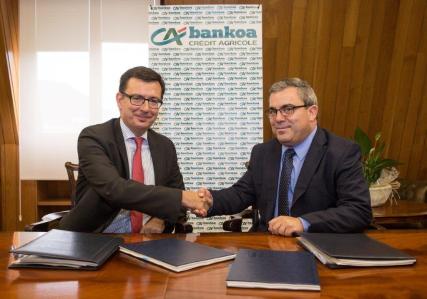 The EIB and Bankoa are providing EUR 150 million to finance the investments of SMEs (firms with up to 250 employees) and midcaps (firms with up to 3,000 employees). Under an agreement signed by the two institutions, the EIB will grant Bankoa a EUR 75 million loan, which the Basque bank will match with a EUR 75 million contribution of its own. The agreement was signed in Donostia-San Sebastián today by EIB Vice-President Román Escolano and Bankoa's CEO, Jesús Suárez. 
Later this week, from 29th to 30th June, Pim van Ballekom, Vice President of the EIB, will lead a high level delegation on his first visit to Ethiopia this year.
The EIB today activated a new EUR 400 million Trade and Export Finance guarantee facility for Greece. It will help small and medium sized Greek companies to export more, and to secure the imports they need for their growth.
The EIB is lending EUR 15 million to support the expansion of a leading private healthcare network in Romania. This agreement is backed by the guarantee of the European Fund for Strategic Investments (EFSI).   
PLN 67m loan under Juncker Plan for Sit's new production facility with the most innovative technologies available in the furniture industry
Investment in installation of meters and expansion of smart grids in Aragón, Cantabria, Castilla-La Mancha, Castilla y León, the Valencia Region, Extremadura, La Rioja, Madrid, Murcia, Galicia, Asturias, Navarre and the Basque Country.

---