Press corner
Welcome to the EIB's press corner. On this page you will find our latest press releases and other relevant information for the media.
---
The investment outlook in Central, Eastern and South-eastern Europe is positive, but companies need to invest more in state-of-the-art machinery and equipment, and in research and development. These were the findings of the Survey of Investment and Investment Finance that the EIB published on 26 May at the GLOBSEC Forum 2017 in Bratislava. The presentation of this unique, EU-wide annual survey involving more than 12 000 firms was focused on the investment environment in Central, Eastern and South-eastern European countries (CESEE).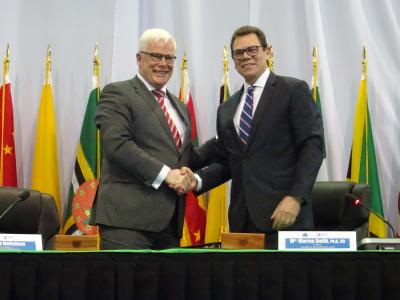 The EIB and Caribbean Development Bank (CDB) have signed a USD 110 million financing agreement to support investment projects in the Caribbean under CDB's climate action policy. The Climate Action Framework Loan II builds on the USD 65 million Climate Action Line of Credit (CALC) signed between EIB and CDB in 2011, and which supports nine projects in seven countries across the Caribbean. The EUR 100 million climate action initiative is the EIB's biggest loan to the Caribbean.
The Spanish Ministry of Finance and the Civil Service, the European Commission and the EIB Group presented today in Madrid the results of the "SME Initiative", a financial instrument which has already generated EUR 3.2 billion worth of financing for small and medium-sized Spanish businesses.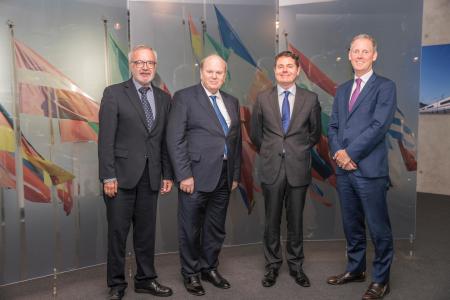 The European Investment Bank is expected to strengthen backing for transport, education, housing, healthcare and small business investment in Ireland, in addition to examining support for sectors such as exporters and agriculture most affected by Brexit, following the meeting of the Ireland-EIB Financing Group held at the European Investment Bank headquarters in Luxembourg earlier this week.
The EIB and Bank Gospodarstwa Krajowego (BGK), the Polish development bank, have signed an agreement to set up an investment platform supporting social and affordable housing projects in different municipalities across Poland. Contributing to social inclusion, this platform, backed by the Juncker Commission's Investment Plan for Europe, will roll out a programme in an area where much investment is needed.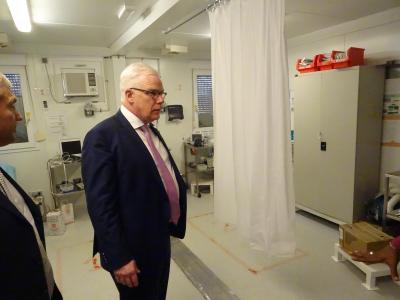 Une délégation de la BEI, dirigée par le vice-président de la BEI, Pim van Ballekom, a visité lundi un hôpital financé la BEI dans le cadre d'une tournée qui  vise à explorer des opportunités de projets en Haïti.
Une délégation de la BEI, menée par Pim van Ballekom, vice-président de la BEI chargé des activités de prêt dans les Caraïbes, effectue une visite en Haïti après la nomination du nouveau gouvernement pour explorer des pistes de financement en faveur de projets d'investissement dans ce pays.
In 2016 the EIB Group provided funding totalling over EUR 83.8 billion to support investment across Europe and around the world. This will help finance projects worth around 280 billion euro. The European Investment Bank (EIB) expects 2017 to be another strong year, building on its robust performance in 2016. The Board of Governors welcomed EIB´s role in strengthening competitiveness and boosting growth and jobs and approved the bank's accounts for last year.
The EIB has invested approximately EUR 2 billion in urban development projects in the south Mediterranean region since 2011, focusing on key urban infrastructure and mobility projects. The Bank's strong commitment to support this important sector was reaffirmed during the second Union for the Mediterranean (UfM) ministerial conference held on 21st and 22nd of May 2017 in Cairo on "Sustainable urban development in the south Mediterranean countries".
La BEI a signé aujourd'hui un accord de prêt d'un montant de 3 millions d'euros avec Action pour la Coopération avec la Microentreprise (ACME) afin d'élargir l'accès aux financements pour les femmes et les emprunteurs des régions rurales, ainsi que pour la population vivant dans les zones touchées par l'ouragan Matthew. La ligne de crédit de la BEI permettra de financer jusqu'à 20.000 micro prêts en Haïti et de donner accès au crédit à des populations défavorisées dans tout le pays.

---