JASPERS - Joint Assistance to Support Projects in European Regions
JASPERS is a technical assistance partnership between the EIB and the European Commission. JASPERS is an important instrument of the EU Cohesion Policy.
Projects supported in the following sectors:
Roads
Air
Maritime
Public transport
Water
Solid waste
Smart development
Energy
JASPERS focuses on large projects with total costs exceeding EUR 50 million for environmental projects and EUR 75 million for transport or other sectors. However, there is flexibility about these thresholds in the case of small countries or where projects serve as pilot actions to establish best practice.
Beneficiary countries as at 31/12/2017:
20 EU Member States (Bulgaria, Croatia, Cyprus, Czech Republic, Estonia, France, Greece, Hungary, Ireland, Italy, Latvia, Lithuania, Malta, Poland, Portugal, Romania, Slovakia, Slovenia, Spain and United Kingdom)
Four Accession countries (the former Yugoslav Republic of Macedonia, Montenegro, Serbia and Turkey).
JASPERS' project preparation support may be made available to other EU countries benefitting from EU Structural and Cohesion Funds, if there is demand and resources made available as well as to Albania, Bosnia and Herzegovina and Kosovo*
Technical Expertise
JASPERS provides technical expertise for any stage of the project cycle from the early stages of project conception through to the final application for EU funding. Assistance may cover:
Project review and recommendations
Horizontal tasks
Strategic support
Capacity building
Implementation support
Independent quality review
JASPERS Activities: November 2006 – 2017
Since start of operations in 2006, JASPERS has completed 1329 assignments. As at 31/12/2017, a total of 652 JASPERS-assisted applications for funding for major projects had been approved by the European Commission, for a total investment cost of EUR 104 billion, of which EU grants amounted to EUR 60 billion.
JASPERS' support is available to the majority (20) of EU and to three Candidate Countries. Those who are not yet availing themselves of JASPERS may obtain it, subject to the agreement of JASPERS' Steering Committee. JASPERS' Steering Committee also authorised JASPERS to respond to requests that might come through the Advisory Hub, where JASPERS is best placed for delivering advice. JASPERS provides a post-submission appraisal function to the EC for all major projects submitted directly to the EC. Since its inception in 2015, six Member States requested JASPERS support for Connecting Europe Facility projects, mainly in the road and rail sectors.
JASPERS' headquarters are in Luxembourg, with offices in Brussels, Bucharest, Vienna, Warsaw and Sofia.
More information on JASPERS can be found on the dedicated website.
---
* This designation is without prejudice to positions on status, and is in line with UNSCR 1244 and the ICJ Opinion on the Kosovo Declaration of Independence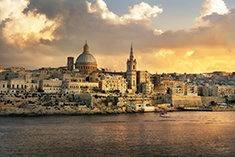 How the EIB's JASPERS program helped Malta's smart city rejuvenation strategy really take off
---
---
---
---