Effective action to stimulate investment across Europe is essential to restore economic growth, create jobs and enhance Europe's competitiveness. We are committed to ensuring that our know-how and experience, in partnership with the Commission, help bridge the investment gap and enable project promoters to attract private finance."

Werner Hoyer, EIB President
---
Did you know ?
Initial funding of EUR 21bn should result in total investment in strategic projects of at least EUR 315bn over the period 2015-2017 thanks to the European Fund for Strategic Investments' potential to mobilise private investment.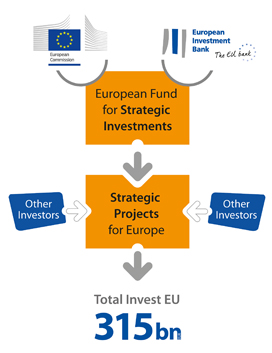 ---
---
---
Top news
Investment Offensive for Europe

The EU Task Force on Investment has published a report showing that there is significant potential for investment in Europe. The report identifies some 2,000 projects, proposed by Member States, for potential implementation over the coming three years. The EIB will help assess the projects to create a transparent pipeline of economically viable projects that can best foster the competitiveness of Europe's economy.

 
Ukraine: EIB President Werner Hoyer visit and EU commitment to supporting Ukraine

During a visit to Ukraine in early December, EIB President Werner Hoyer said: "The EIB is committed to supporting priority projects in Ukraine so it can better face its recent challenges. The EU bank stands ready to sign more than EUR 1bn in total loans for this year, as part of the EUR 3bn package targeted for 2014-2016." With a stock of EUR 2.1bn signed loans, Ukraine is already the biggest recipient of EIB lending among the EU's Eastern Partner Countries.

 
Extension of JASPERS to provide increased technical assistance in Greece

The EIB is continuing our strong support in key sectors for growth and jobs in Greece through lending, blending and advising. In early December, alongside a EUR 80m loan agreement to help ensure secure electricity supply to 18 Greek islands, we announced plans to bolster our financial support with enhanced technical assistance in Greece, through strengthening and extension of the JASPERS (Joint Assistance to Support Projects in European Regions) initiative.

 
Largest ever EIB loan provides GBP 1.5bn for National Grid investment

The EIB has agreed to provide GBP 1.5bn (EUR 1.92bn) for investment by National Grid plc across its national electricity transmission network. This support for connecting new power generation, upgrade ageing assets and improve network resilience to climate and security risks represents the largest ever single loan made by the EU bank. The new long-term loan will include capital investment by National Grid reinforcing infrastructure between the Wirral and Scotland, and the London Power Tunnels.

 
---
---