In Europe, our SME support remained our largest policy contribution, amounting to EUR 25.5 billion. This is the highest amount ever for the EU Bank. Our SME lending helped create or preserve 3.9 million jobs globally by supporting 290 000 businesses."

Werner Hoyer, EIB President
---
Did you know ?
Expected impact of 2014 lending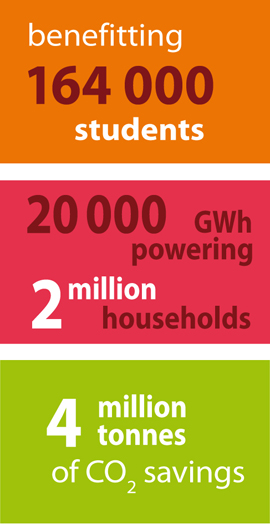 ---
---
---
Top news
Europe's Finance Ministers endorse EIB Group engagement in Investment Plan for Europe

Europe's Finance Ministers have welcomed the proposal for the EIB to manage the European Fund for Strategic Investments which will support EUR 315 billion of new investment across Europe over the next three years. The extraordinary meeting of the EIB's Board of Governors recognised the significant role of the EIB Group in supporting crucial investment during the crisis.

 
A powerful connection between France and Spain

French and Spanish electricity companies have inaugurated the long-awaited power interconnector between their two countries that is breaking all records. The 1 400 MW cable, supported by a EUR 350 million EIB loan, will double French-Spanish electricity exchange capacity to 2 800 MW, and is helping to connect the Spanish power system to other European energy markets.

 
EIB backs EUR 300 million social housing investment in Ireland

A new initiative jointly backed by the Housing Finance Agency and the European Investment Bank is expected to support investment in 2,000 social housing units to be developed across Ireland over the next three years.

 
---
---
---