We have to invest more. In particular, we have to invest significantly more in research and development, innovation and 21st-century-based infrastructure in order to increase our competitiveness. Today, we still can do this from a position of strength. But if we don´t face up to the challenges, we will have a very difficult time, given the global competition."

Werner Hoyer, EIB President
---
Did you know ?
EIB investments in innovation and skills in 2013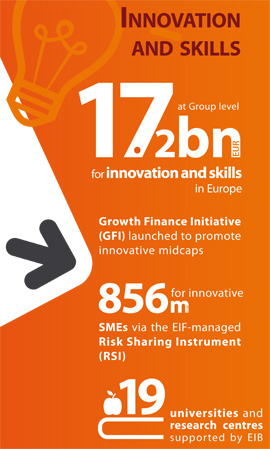 ---
---
Top news
France: EUR 1 billion for schools
On 23 June 2014, the EIB signed a new loan in support of energy efficiency and education – the first EUR 400 million instalment, for the refurbishment and modernisation of schools in France, of a total EIB loan of up to EUR 1 billion.
 
EIB Trade Finance Facility for Greece receives international award
In a hall full with more than 300 trade finance specialists from all over the world, the EIB received on 18th June in London, the "Deals of the Year 2013 award" by the renowned Trade Finance Magazine. The EIB Facility was selected for "providing a lifeline for Greece".
 
A break-through operation in the world of finance and research
The EIB has signed an agreement with the Belgian biopharmaceutical company UCB to provide "at-risk co-development funding" of up to EUR 75 million for the development of selected UCB compounds.
 
---
---
---