News and media
Blogs
---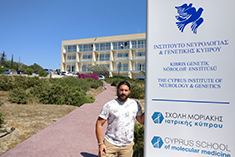 The Cyprus Institute of Neurology and Genetics boosts its research and patient care—for Greek and Turkish Cypriots
Aarhus becomes the first Danish city to boast a tram system that provides increased mobility and saves emissions.
A small Austrian town fights climate change with an innovative partnership of small, local entrepreneurs.
---
Press
---
The investment outlook in Central, Eastern and South-eastern Europe is positive, but companies need to invest more in state-of-the-art machinery and equipment, and in research and development. These were the findings of the Survey of Investment and Investment Finance that the EIB published on 26 May at the GLOBSEC Forum 2017 in Bratislava. The presentation of this unique, EU-wide annual survey involving more than 12 000 firms was focused on the investment environment in Central, Eastern and South-eastern European countries (CESEE). 
Une délégation de la BEI, dirigée par le vice-président de la BEI, Pim van Ballekom, a visité lundi un hôpital financé la BEI dans le cadre d'une tournée qui  vise à explorer des opportunités de projets en Haïti.
The EIB and Bank Gospodarstwa Krajowego (BGK), the Polish development bank, have signed an agreement to set up an investment platform supporting social and affordable housing projects in different municipalities across Poland. Contributing to social inclusion, this platform, backed by the Juncker Commission's Investment Plan for Europe, will roll out a programme in an area where much investment is needed.
---
---