News and media
Blogs
---
The Netherlands works hard to maintain its ingenious network of dikes, barriers and sluices under the increasing pressure of climate change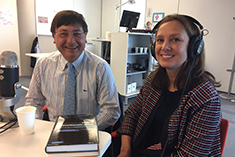 A Dictionary of Finance finds that banks are faced with big challenges assessing the "intangible" assets of companies in the digital economy
Until now, chemicals have been the only products available to eliminate waterborne bacterial risk. In France, the small firm Amoéba manufactures an effective, harmless and less corrosive biological biocide.
---
Press
---
The EIB has signed four loans totalling EUR 110m in Serbia with the Serbian banking and leasing subsidiaries of Intesa Sanpaolo and Société Générale. These loans will support projects by small and medium-sized enterprises (SMEs) and infrastructure schemes by local authorities. They are the initial tranches of a total of EUR 190m in credit lines already approved by the EIB to support the Serbian economy together with the two banking groups.
Today at the Paris InfraWeek event, the EIB and Société du Grand Paris announced a second financing agreement worth EUR 1bn for the financing of Line 15 South of the Grand Paris Express. This brings the EIB's total support for the project so far to EUR 2bn given that an initial EUR 1bn contract was signed in 2016. The new finance contract was signed by EIB Vice-President Ambroise Fayolle and Chairman of the Executive Board of Société du Grand Paris, Philippe Yvin, in the presence of Bruno Le Maire, Minister of the Economy and Finance.
Today in Washington D.C., at a key debate on how to improve the functioning of the Eurozone and Europe's economy as a whole, EIB President Werner Hoyer stressed the importance of investment in infrastructure and for a particular focus on creating the right conditions for young and innovative firms to thrive in Europe. He also said that the possibility of a new future relationship between the European Stability Mechanism and the EIB should be given "serious thought".
---
---