NCFF - Natural Capital Financing Facility
Boosting investment for biodiversity and nature-based adaptation to climate
NCFF, a financial instrument set up by the European Investment Bank and the European Commission, supports projects on biodiversity and climate adaptation through tailored loans and investments, backed by an EU guarantee.
  NCFF will be replaced by InvestEU.
The Natural Capital Financing Facility (NCFF) offers funding to projects that promote the conservation, restoration, management and enhancement of natural capital for biodiversity and adaptation benefits, including ecosystem-based solutions to challenges related to land, soil, forestry, agriculture, water and waste inside the European Union.
NCFF consists of a combination of the following two components:
The finance facility can provide financing of a minimum amount of €2 million and a maximum amount of €15 million
The technical assistance facility can provide each project with a grant of up to a maximum of €1 million for project preparation, implementation and the monitoring of the outcomes
NCFF combines funding from the EIB and the LIFE Programme, the EU's funding instrument for the environment and climate action. The first loan was signed in April 2017.
The facility does not accept new project proposals and the implementation of selected projects is expected to conclude by end of 2022.
  Discover in our report the challenges involved in financing nature-based projects. This analysis builds on available information from across Europe and from the experience gathered by implementing NCFF. It also provides key recommendations on how to attract much-needed private investment in the sector.
We finance projects that support, among other:
Green infrastructure, for example green roofs, green walls, ecosystem-based rainwater collection/water reuse systems, flood protection and erosion control.
Payment for ecosystem services, for example programmes to protect and enhance forestry, biodiversity, to reduce water or soil pollution.
Biodiversity offsets/compensation beyond legal requirements, for example compensation pools for on-site and off-site compensation projects.
Pro-biodiversity and adaptation businesses, for example sustainable forestry, agriculture, aquaculture or ecotourism.
Nature-based solutions for adaptation to climate change
Check the
overview of all the projects
 we have financed or consult our
projects list
for more details.
NCFF provides technical assistance for the support of operations expected to receive financing under the facility. Only projects expected to benefit from NCFF financing are eligible for technical assistance. Such projects must contribute to the LIFE objectives and be evaluated by the EIB as viable with a strong business case.
Typical examples of our technical assistance include, but are not limited to, the following:
Establish baseline studies, carry out biodiversity and ecosystem monitoring.
Climate vulnerability assessments, analysis of exposure to the impacts of climate change, recommendations for ecosystem-based adaptation solutions.
Training and capacity building.
Feasibility studies.
Improving and strengthening individual components of a project/business plan.
Further strengthening of financial analysis and/or the business case.
Advice on legal structure of the project.
Technical assistance under NCFF can be combined with other sources of grant funding, for example the EU Rural Development Programmes (RDP), EU Regional Development Fund (ERDF), Horizon 2020 and national programmes.
Find more details on all
operations receiving technical assistance
.
Greening a city, taking the environment and the effects of climate change into account, has many positive effects: reducing the risk of floods, tackling the negative effects of heat waves, improving local air and water quality, strengthening social cohesion, increasing overall attractiveness and quality of life…
NCFF can help EU cities achieve these objectives by financing:
Green infrastructure: creation of green corridors, planting of trees, shrubs parks and urban gardening/farming, resident planting, green roofs, green/hanging walls, greening of grey surfaces, permeable parking, rain gardens, rehabilitation of industrial sites or abandoned land, among others
Blue infrastructure: nature-based flood protection, sustainable urban drainage systems, retention basins, lakes, ponds, watershed management
Green and blue infrastructure elements in a city can be financed as a stand-alone project, as part of a larger investment scheme for an urban area or as part of a social housing scheme.
Revenue streams or cost savings for green and blue infrastructure investment in cities can take a number of different forms: funding through taxes, fees, credits, crowd funding, payment for ecosystem services schemes. Our experts guide local authorities into identifying new financing streams.
We also support the EU Urban agenda and contribute to the various partnerships promoted by this initiative - in particular "Sustainable use of land and nature-based solutions".
Examples of supported projects
Restoration of the Alzette river in Luxembourg
NCFF provided a €9 million loan to fund the ecological restoration of the Alzette river and its tributary, the Pétrusse, in the heart of Luxembourg. The project seeks to restore both rivers to their original natural courses and conditions, increasing biodiversity and offering natural solutions for reducing flood risk.
Thanks to this project, heavily urbanised sections of river will resume a more natural course. Their banks will also be restored to create natural habitats for flora and fauna. The restoration will let the water flow more naturally and slowly, reducing the risk of flooding. The measure constitutes a nature-based adaptation to climate change risk that will improve flood protection in and downstream of Luxembourg's capital.
Press release
Wallonia Wastewater and Biodiversity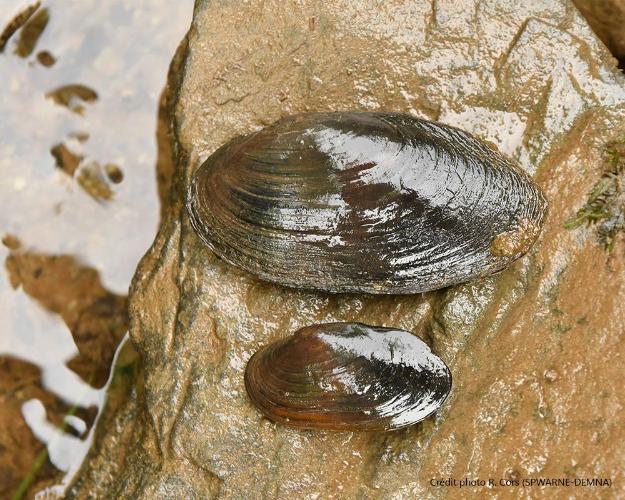 NCFF provided in 2021 a €4.5 million loan to the Belgium Société Publique de gestion de l'eau (SPGE). The loan will be used for the application of nature-based solutions for water treatment, increased retention of storm water and the protection of natural habitats. The loan will in particular improve wastewater treatment with the objective to reach river water quality suitable for the reestablishment of the Pearl Mussels, (Margaritifera margaritifera). The Pearl Mussle was once common in Europe, but more than 95% of the total number have disappeared over the past hundred years. In Belgium, there are only a few remaining populations, found in very clean watercourses in the Rulles, Sûre, Vierre and Our basin. The NCFF loan will support the reestablishment of the mussle. The project is part of the investment programme 2019-2021 of Société Publique de Gestion de l'Eau, a public-sector entity in charge of wastewater collection and treatment in the Walloon Region (Belgium).
Press release
CDC Biodiversité – Biodiversity Offsetting
This is the first NCFF operation that supports a Biodiversity Offseting scheme. The operation consists of a €5 million loan to the French CDC Biodiversité, a subsidiary of the Caisse des Dépots, for the rehabilitation and management of conservation sites around France. The rehabilitation and management of conservation sites will allow CDC Biodiversité to generate offset credits (Unités de Compensation) for clients who are required to offset their impacts on certain habitats and species as a condition of a planning permission. This EIB loan will enable CDC Biodiversité to support investment in new sites, while keeping its existing sites, some of which have high ecological value, and make the necessary investments to register and market the credits of those sites to comply with regulatory requirements in France.
Video
Press release
Green infrastructure for urban resilience in Athens
This is the first NCFF operation integrating nature-based solutions in a city. A €5 million NCFF loan will finance and support the integration of green components into the restoration of public squares and streets, create green corridors between different greened areas and contribute to the natural restoration of Athens second landmark hill after the Acropolis, Lycabettus hill. The objective of this operation is to support the implementation of the Athens Resilience 2030 Strategy and thus contribute to reducing urban heat islands, increase natural water infiltration and improve overall attractiveness of the project areas. This loan is attached to a €55 million framework loan for resilient urban renewal and development to the Municipality of Athens.
Video
Press release
Rewilding Europe Capital
The first project supported by the NCFF, signed in April 2017, was a €6 million loan to Rewilding Europe Capital. It will provide support for over 30 nature-focused businesses across Europe. The comeback of iconic and threatened European wildlife species such as the European bison, brown bear, black vultures as well as pelicans and white-tailed eagles of the Danube and Oder Delta, to name a few, could also benefit from the investments.
White pelicans, Pelecanus onocrotalus, Danube delta rewilding area, Romania
Copyright: Staffan Widstrand / Rewilding Europe
Blog story
Press release
SLM Silva Fund
The SLM Silva Fund is a specialised fund focusing on sustainable forestry in Ireland. The strategy of the fund is to acquire semi-mature plantations and to transition these forests to 'Continuous Cover Forestry' or 'Close to Nature' management, an alternative to the widely used single-species clear fell-replant system. Continuous Cover Forestry maintains permanent forest cover and promotes a mixed forest structure. It is a commercially viable management model which promotes biodiversity, soil health and landscape value. The fund has now reached its first close and is initiating its investment period.
Natural Capital investments for Croatia
This operation consists of on-lending €15 million to the Croatian Bank for Reconstruction and Development (HBOR) through a multi-beneficiary investment loan. HBOR, with its special local expertise and understanding of the Croatian market, will provide smaller loans to projects investing into the area of conservation, restoration and nature-based adaptation, such as eco-tourism, sustainable agriculture and forestry or green infrastructure for cities. The operation is particularly important in Croatia given its rich biodiversity and significant contribution to the Natura 2000 network.
This guide provides developers of conservation and nature-based adaptation projects with an overview of the financing basics, potential financial models as well as practical examples of conservation/adaptation projects and their financial models and legal structure.
Download the guide