Briefing - Evaluation of the Functioning of the European Fund for Strategic Investments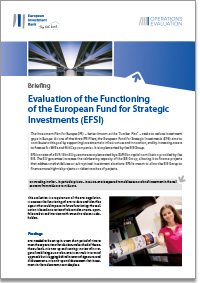 The evaluation is based on a review of relevant documents, a portfolio analysis and interviews with around 75 relevant stakeholders.
The Investment Plan for Europe (IPE) – better known as the "Juncker Plan" – seeks to reduce investment gaps in Europe.
As one of the three IPE Pillars, the European Fund for Strategic Investments (EFSI) aims to contribute to this goal by supporting investments in infrastructure and innovation, and by increasing access to finance for SMEs and MidCap companies. It is implemented by the EIB Group.
EFSI consists of a EUR 16bn EU guarantee complemented by a EUR 5bn capital contribution provided by the EIB. The EU guarantee increases the risk-bearing capacity of the EIB Group, allowing it to finance projects that address market failures or sub-optimal investment situations. EFSI is meant to allow the EIB Group to finance more high-risk projects or riskier tranches of projects.
---
---
---
---