FEMIP Overview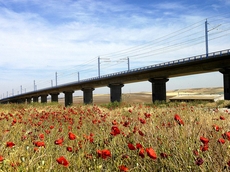 Between its launch in October 2002 and December 2011, FEMIP:
invested EUR 13bn through its operations;
supported 2,300 SMEs, which created 30,000 jobs in the region;
mobilised roughly EUR 35bn of additional capital together with international financing institutions, bilateral agencies and the private sector in order to advance the integration of the region;
assigned more than EUR 27m to help existing institutions integrate into the local financial markets;
granted a total of EUR 102m for technical assistance operations to build knowledge and capacity in the Mediterranean partner countries.
Annual signatures in the Mediterranean region (EURm)
In 2011, FEMIP focused on strategic projects that brought substantial change to local economies:
EUR 1bn was invested by FEMIP in the Mediterranean partner countries,
23 projects and technical assistance operations benefited from FEMIP financing and private equity operations in public and private sectors;
63% of total financing was provided to the private sector and 37% to the public sector;
EUR 500m was disbursed, a tangible indicator of the implementation of investment projects on the ground;
EUR 9m was allocated to technical assistance operations, helping promoters in the day-to-day management of their projects.
Nearly 1,900 permanent and 5,200 temporary jobs will be created through the projects signed in 2011.
The FEMIP Trust Fund received EUR 4.7m of new commitments during the successful on-going replenishment exercise.
FEMIP put the private sector first. Examples are the key partnerships with Spain for co-investments and risk capital; Luxembourg for microfinance development; and the Arab Financing Facility for Infrastructure for promoting public-private partnerships (PPP) in the region.
FEMIP investments by region:
EUR 503m for projects in the Maghreb countries
EUR 423m for projects in the Near East countries
EUR 49m for regional projects
EIB activities by country in 2011
EIB activities by sector
During 2011, the FEMIP put private sector first, by dedicating to it 64% of the lending volume of the year.
EUR 421m for industry
EUR 262m for water
EUR 163m for transport
EUR 50m for energy
EUR 49m for private equity operations
EUR 30m for credit lines to SMEs
Signatures by sector in 2011

---