The European Investment Bank in Ireland: what we do
EIB financing* in Ireland came to a total of EUR 935 million in 2017.
The total investment of the EIB Group (the European Investment Bank and the European Investment Fund) in Ireland in 2017 was EUR 1 billion.
(*) signed projects
---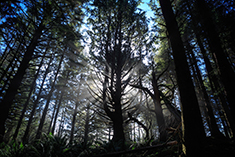 The Sitka spruce is one of the largest species of evergreens in the world. It can grow to nearly 100 meters tall, at an astonishing pace of 1.5 meters per year, and have a trunk diameter of 5 meters. The largest one currently known has an estimated trunk volume of 337 cubic meters – surely enough to produce more than enough paper to print all the copies of Ulysses sold during James Joyce's lifetime just from a single tree.
---
Did you know the EIB has provided more than EUR 512 million in support of universities in Ireland over the past five years? Our latest loan will facilitate Trinity College Dublin implement its investment programme, including the construction of the new Trinity Business School, the development of campus student accommodation at Oisín House, and new premises for Trinity's Institute of Population Health in Tallaght.
---
---
---
European Fund for Strategic Investments (EFSI) in Ireland
The European Fund for Strategic Investments (EFSI) is an initiative to help overcome the current investment gap in the EU. It aims to mobilise EUR 500 billion by 2020.
Jointly launched by the EIB Group and the European Commission, it is the central pillar of the Investment Plan for Europe, aiming to boost jobs and GDP, improving the lives of people across Ireland.
EFSI key figures for Ireland (by January 2018)
Number of transactions
20
Approved EFSI financing
EUR 982m
Expected investment related to EFSI
EUR 4bn
Use our map for a detailed overview of EFSI projects in Ireland.
EIB Investment Survey 2017 - Ireland
The annual EIB Group Survey on Investment and Investment Finance (EIBIS) is an EU-wide survey of some 12 300 firms that gathers information on investment activities by both SMEs and larger corporates, their financing requirements and the difficulties they face.
Click here to see the country overview of 2017 results for Ireland.
---
How to receive EIB support in Ireland:
---
---