EIB at COP23: UN climate change conference
Date: 06 November 2017 - 17 November 2017

Location:
As the world's biggest provider of climate finance, the European Investment Bank (EIB) is taking part in COP23, the annual meeting of global leaders and climate action specialists.
At the Bonn 2017 UN Climate Change Conference (6 - 17 November 2017) governments will come together to discuss the next steps after the 2015 Paris Agreement - a landmark climate change accord.
On this page, find out where the EU bank is at COP23 and what its delegation of experts led by EIB President Hoyer is doing - with updates of news and info throughout the conference.
Do you want to know how our climate finance expertise helps fighting climate change? Discover how we do it:
Climate action news
The initiative between the EIB and the Government of Luxembourg is investing EUR 5 million in C Shares of the Green for Growth Fund
Capital market leaders from around the world welcomed a new action plan designed to stimulate green finance to tackle global warming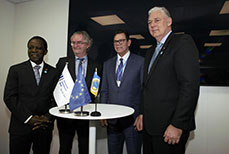 The EIB and the Caribbean Development Bank have set up an emergency post-disaster reconstruction financing initiative to help the region recover from recent hurricane events
Join the EIB at COP23
Come and join us at the EIB/Luxembourg pavilion where delegates can learn more about our climate action activities.
The Bank will also share its unique expertise in a number of panel discussions and cooperates with different organisations to showcase their climate finance products. The EIB delegation to Bonn consists of high-level experts and officials, and is headed by EIB President Werner Hoyer and the Vice-President Jonathan Taylor, responsible for climate and environment.
Monday 6 November
Tuesday 7 November
Thursday 9 November
Friday 10 November
Saturday 11 November
Sunday 12 November
Monday 13 November
Tuesday 14 November
Wednesday 15 November
Thursday 16 November
  
See the programme for COP23: http://newsroom.unfccc.int/cop-23-bonn/
Watch our COP23 videos
EIB at COP23 on social media
Stay up to date through our social media channels.
Join the conversation on Facebook live  and have your say at the following events:
Follow the COP23 on Twitter  #COP23
Together on climate
The EIB is one of the largest providers of climate-related investment globally. Our unique experience of financing schemes around the world gets climate projects off the ground. However, the EIB cannot meet the challenge on its own. Cooperation with our partners is crucial. Together with other multilateral development banks we are committed to backing investment in transformational projects that cut emissions and address a changing climate.
No green, without blue
"We are supporting adaptation, biodiversity and ecosystems. We want to increase the resilience of the ocean and coastal environments to dangers such as natural disasters or rising water due to climate change."
Jonathan Taylor, EIB Vice-President
The European Investment Bank supports investment around the world that strengthens conservation and enables more sustainable use of oceans and marine resources. This includes responding to the needs of Small Island Developing States to reduce vulnerability to a changing climate and supporting schemes that reduce pollution and contribute to development of a sustainable blue economy.
Discover how we do it: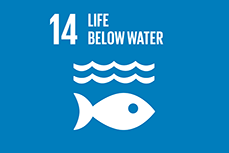 Conserve and sustainably use the oceans, seas and marine resources for sustainable development
Sustainable cities
The unprecedented growth of cities, especially in emerging economies and developing countries, require increased investments in projects that protect the environment our children will live in and help to combat climate change.
The EU bank supports cities which want to become environmentally friendly, climate resilient and compact.
Find out how we do it:
Clean power, green finance
"Through its universal adoption, the Paris deal has given confidence to investors that rapid scaling up of all sorts of climate finance is inevitable. What we need now is ratification, implementation… and increased ambition."
Jonathan Taylor, Vice-President of the EIB
Energy efficiency is now widely recognised as one of the most economical ways of addressing climate change and many countries have established energy efficiency targets. The EIB finances development, construction and operation of renewable energy projects and installation of energy efficiency measures. The objective is to reduce greenhouse gas emissions, improve energy access and to catalyse private sector funding for climate investment.
---